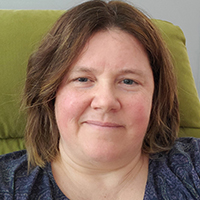 Position
Science Teacher
Education
BS Biology and High School Science (Dalhousie University)
About Me
I grew up in Nova Scotia, Canada, near Halifax. I live in Midcoast, Maine, with my husband, 3 kids, and a dog. My husband is the pastor of a small church, and we work with the organization, Village Missions.
Favorite Verse
Micah 6:8. It reminds me what is important and what my heart's attitude should be as I live. Justice with mercy, not just one or the other, all wrapped up in a humble heart.
First Job
I worked at a fabric store (Fabricville) near my home while I was in high school
Hobbies
Reading, playing piano, sewing, driving my kids to their games.
Bucket List Item
I would love to visit Australia.
Favorite Place
The Dominican Republic. We went as a family to celebrate our oldest finishing high school.
Person I'd Like to Meet
There are many Bible heroes I would love to meet. In addition, I would like to meet people like Copernicus, Kepler, Pascal, Curie, Pasteur, Newton, and many other scientists who made amazing discoveries.